Curriculum & Materials
The KiddyKeys curriculum is comprehensive and progressive while offering you the flexibility to determine your teaching trajectory and session length.
Our program is turn-key. You'll receive the training, materials and support that will enable you to do what you do best from the start — teach.
KiddyKeys teaching materials are great to use with students of all ages, making them a terrific value! We proudly print and manufacture in the USA.
All Kits Include: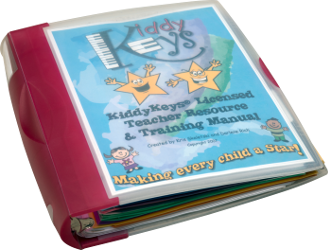 Lesson Plans
The centerpiece of our program. We offer over 140 complete, detailed lesson plans that will enable you to teach effectively and efficiently. Review the back side of the plan to prepare for each class and then follow the comprehensive lesson guide to fully explore each weekly concept. Full of fun and activities, you'll simply choose your weekly lesson plan, grab your materials, and teach your class.
take a look inside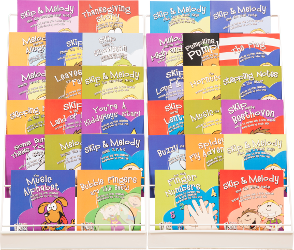 32 Original Storybooks
Charming stories for each lesson concept and all seasons of the year. Join Skip, Melody and Music the Dog as they play and learn about music. Saddle-stitched and printed on durable, glossy cardstock, the KiddyKeys story books are loved by children and teachers alike!
take a look inside
see it in action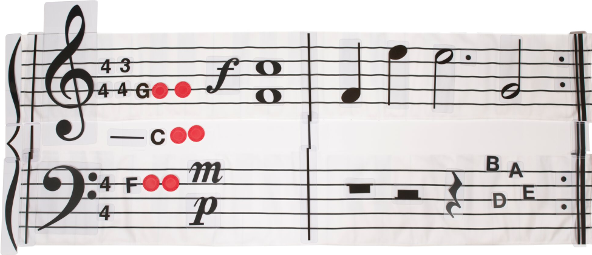 Grand Staff Symbols
see it in action
Hands-on, durable, and kid-friendly sizing. This collection of plastic notes and symbols will become a staple in your teaching. Includes the following:
Treble Clef
Bass Clef
Final Bar Line
Brace and Bar Line
Quarter, Half and Whole Rests
3/4 and 4/4 Time Signatures
Repeat Sign
Dynamic letters p, m and f
Music Alphabet Letters A - G
Ledger Line for Middle C
Quarter, Half and Whole Notes
Dots for Dotted Half Notes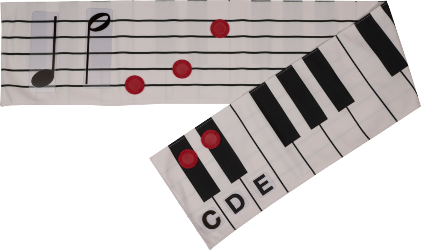 Reversible Staff/Keyboard
Sure to be one of your favorite teaching tools for your students of all ages. Durable and washable, you'll find these partner well with the notes and symbols that are included in your kit. You'll be provided with one octave of keyboard per student.
see it in action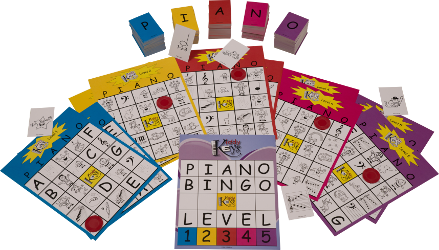 PIANO Bingo
Five levels printed in bright colors on cardstock, 8.5 x 11, and another great tool to use with students of all ages. Fully laminated for long-term use. Includes large flash card sized calling cards that you'll find useful in your teaching.
see it in action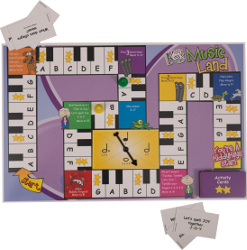 Music Land Game
Board game fun! Play as partners or individuals. Our games are all about learning and having fun, and you'll all be laughing as you bark in a low voice like Music the Dog! 11x17 with pawns and activity cards. Fully laminated.
see it in action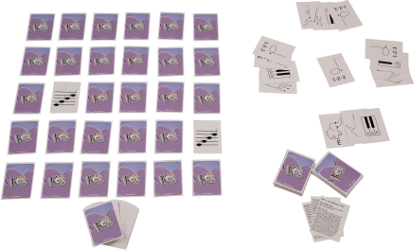 KiddyKeys Playing Cards
You'll receive 4 cards of each symbol/character with full directions for multiple game options. Also usable as flashcards. Another terrific teaching tool for your entire studio. 168 cards with plenty of game and learning options included. Fully laminated.
see it in action
KiddyKeys Express Train Game
A teacher favorite, for sure! These 8.5 x 11 cards include three sets of the music alphabet, treble and bass clef, note values, and all line and space notes. Bright colors on card stock, fully laminated. A great "shake the wiggles out" game, also useable as flash cards and review of colors and letter names. Definitely a winner!
see it in action
KiddyKeys Graduate Pack
A variety of Keyboard Kickoff and Roadtrip! pieces with a license for unlimited reproductions and even more full-time fun! Time for your KiddyKeys stars and piano students to shine!
take a look inside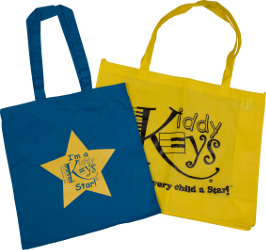 KiddyKeys Tote Bags
Stay organized and travel with your KiddyKeys materials. These tote bags are durable and fun and will mark the arrival of full-time-fun for your students.
see it in action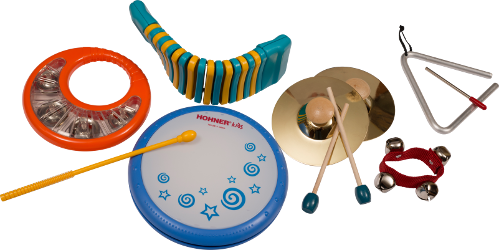 Rhythm Instruments
Kid size, colorful and easily held by little hands. Available instruments include: triangle, tambourine, cymbals, drum, clatterpillar and wrist bells. Marching and movement are integral to learning. We're happy to offer fun, child-friendly options.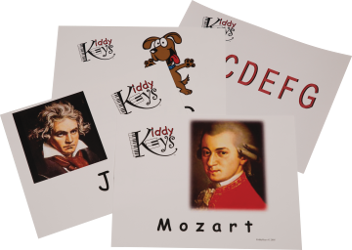 Classroom Aid Cards
Visual tools to engage your students. These cards feature KiddyKeys character Music the Dog, composers Mozart, Beethoven, Bach and Clara Schumann, and the music alphabet. Classroom aid cards are used in tandem with lessons concepts as well as with the KiddyKeys music tracks.
see it in action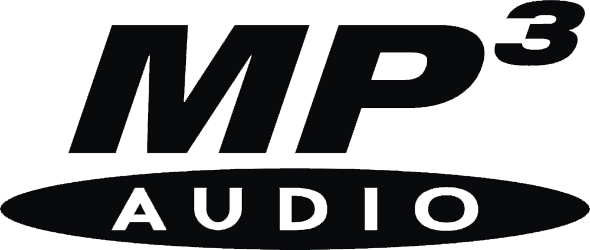 Audio Files
Over 68 tracks of songs, finger plays, improvisation backing tracks and gross motor activities. Vocals included on the sweetest backing tracks available. Check out the included tracks for a glimpse into the learning and fun that will take place during your KiddyKeys classes.
listen to sample tracks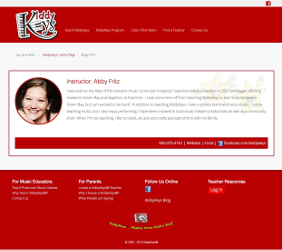 KiddyKeys Web Page
We'll customize your own KiddyKeys page for you providing your customers with a snapshot into who you are. Links to your studio web page and Facebook page are available. Teacher web pages are completely mobile device friendly, and a great resource for an added web presence.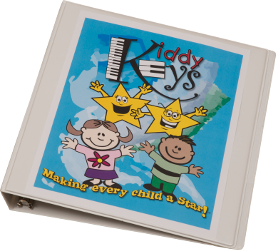 Activity Sheets
Over 175 worksheets will be provided to you, including activity sheets for each lesson concept and seasonal lessons. A wonderful complement to your classes and a great take away for your students, you'll be provided with unlimited access to print these worksheets as needed.
see it in action
take a look inside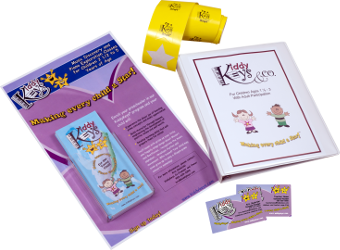 Optional Add-ons
Marketing Kit
The KiddyKeys marketing kit is available to licensed teachers as an add-on. Our marketing package includes:
Director and Parent Letters
Location Posters (8.5" x 11")
Marketing Flyers
What We Did In Class Hand-Outs
11" x 17" Posters, Brochures, and Business Card PDFs
Enrollment Forms for Multiple Session Length Options
KiddyKeys & Company Curriculum for 1½ - 3-year-old children with adult participation
100 "I'm a KiddyKeys Star!" stickers
Acrylic brochure holder
Additional training on the marketing model
Family CD and Coloring Book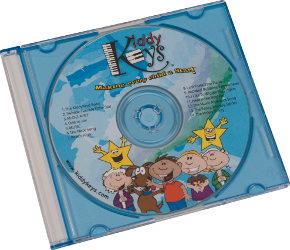 KiddyKeys Family CD
Full-time Family Fun! The CD includes 14 student favorites for at home learning and enjoyment. Available for teacher purchase as an optional family material.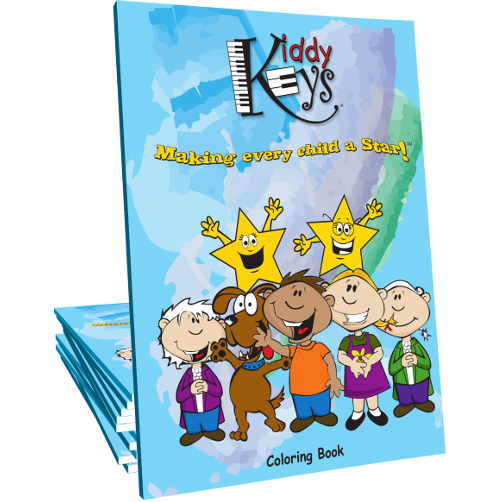 KiddyKeys Coloring Book
With over 35 pages depicting our favorite KiddyKeys Characters, this coloring book is a terrific take-away for each child. Available for teacher purchase as an optional family material.
What's not Included
KiddyKeys includes EVERYTHING you need to teach your classes, with the following exceptions:
Crayons
Bottle of Bubble Solution
Large, Bouncy Ball
Music Player
Keyboard/Piano